Full Service Builders
Oak Island, Southport, NC
Moore Developement of N.C., Inc. is headquartered in Oak Island, North Carolina.
We provide full service residential and light commercial construction services for Southport and Oak Island area of North Carolina.
We also offer site development services for residential, commercial and multi-family applications throughout South Eastern North Carolina.
Land Aquisition
We'll help you find the Lot and Financing to fulfill your needs.
Project Planning
We'll help you put together a plan to bring your vision to life.
Construction
We'll utilize the highest quality men and materials to achieve lasting value and your satisfaction.
Land Aquisition
Project Planning
Construction / Remodeling
Land Utilization Consulting
Logo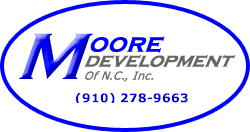 Custom Coastal Homes
Coastal Site Development
Light Commercial/Up-fits